If you are looking for a great place in Dubai to relax and spend time with friends, then a shisha bar can be a great choice.
A pleasantly peaceful atmosphere, sweet smell, unhurried conversations over smoking a specially selected blend of flavored tobacco – what can better help to forget about the affairs and concerns of the business day.
Shisha smoking is one of the most popular forms of Arab hospitality, the main thing in this process is communication, pleasant pastime and enjoying the company of friends. In Dubai, you can find many cozy places where you will be offered shisha, we have selected several of the hundreds of magnificent shisha places. Find your destination with shisha in Dubai, which is best suited for you.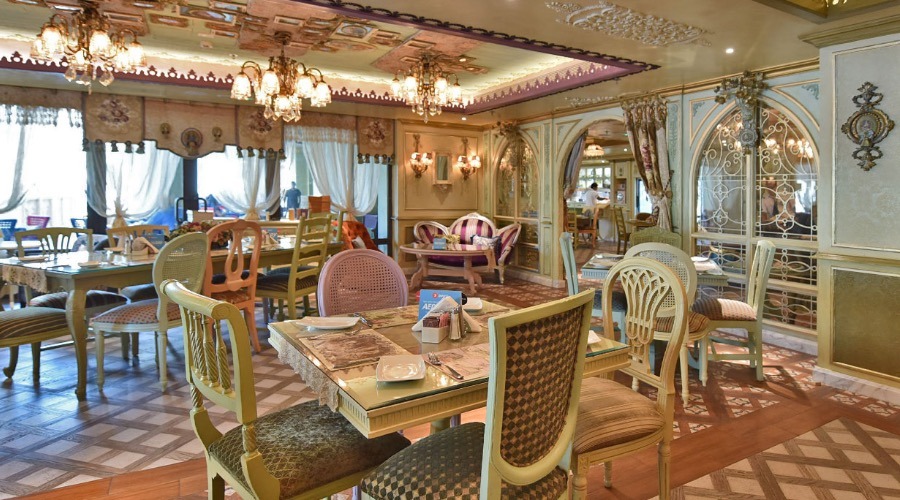 Shakespeare and Co., Souk Al Bahar
To sit in a cozy atmosphere with the muffled light of lamps and soft pillows, and interiors in the British style discussing what happened during the day with close friends and colleagues – the cafe-restaurant Shakespeare and Co. will be an excellent choice. The venue offers a wide selection of indoor shishа, which you can enjoy with tea, coffee, juices, and a variety of delicious dishes and desserts of Middle Eastern and European cuisine, Including the extensive Lebanese menu.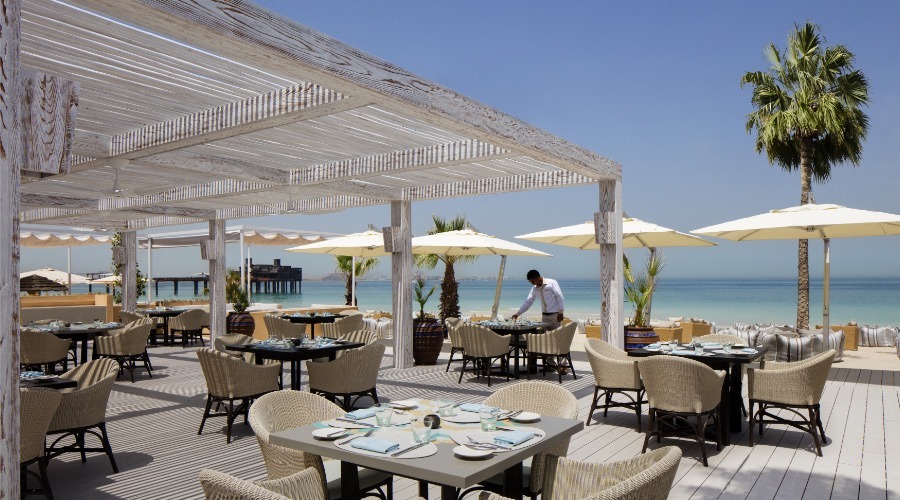 Shimmers, Jumeirah
Among the best shisha places in Dubai, the Shimmers bar at The Madinat Jumeirah is especially notable. A peaceful beach day will get its amazing end with a hookah in the sunset light. Excellent views of the Burj Al Arab, the atmosphere of enjoying life and great shisha – you will find the relaxation at the highest level.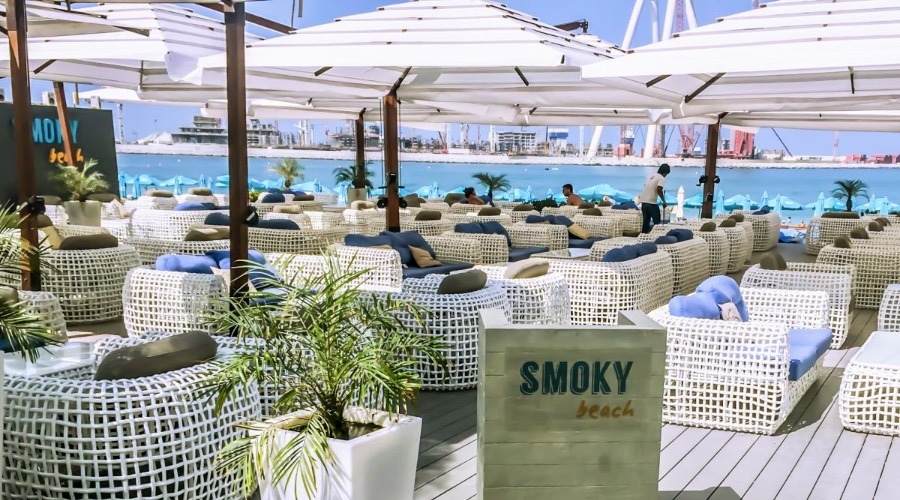 Smoky Beach, JBR
Of all the shisha cafes and bars in Dubai, Smoky Beach stands out for its enjoyable laid back atmosphere. Feel at the top of the world at this beachfront venue, with excellent service and a wide selection of drinks and food. The proximity to the water, open space, big city lights, beautiful views, chilled lounge experience – come here with a company of good friends and an amazing end of the day is guaranteed.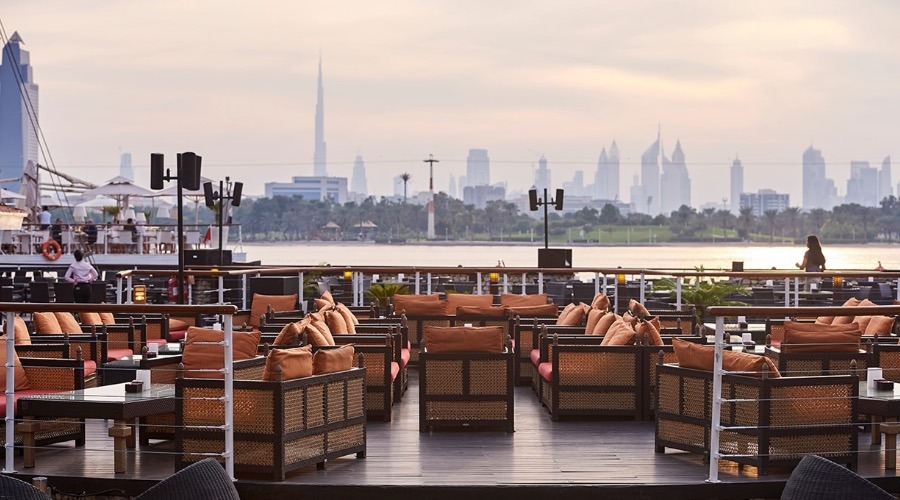 QD's
QD's Bar & Grill located at the Dubai Creek Golf & Yacht Club is one of the most popular destinations for shisha in Dubai. Here you will find incredible views of the Dubai Creek, which in the evening filled with lights will turn into the decoration of a fantastic story. Hookah of the highest quality and diverse flavors are served here along with high-class drinks and dishes of local and international cuisine.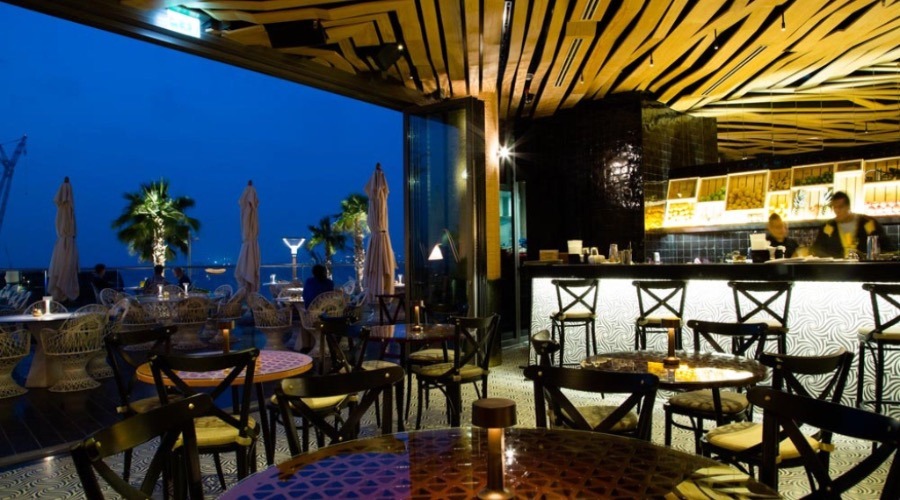 Almaz By Momo JBR
A venue specializing in North African cuisine offers a relaxed atmosphere and Maghrebin style in décor and dishes. In addition to the restaurant and juice bar, visitors can spend the evening in a special Shisha room enjoying the atmosphere of ambiance and luxury. Enjoy the terrific dinner and best shisha overlooking the Dubai eye Ferris wheel.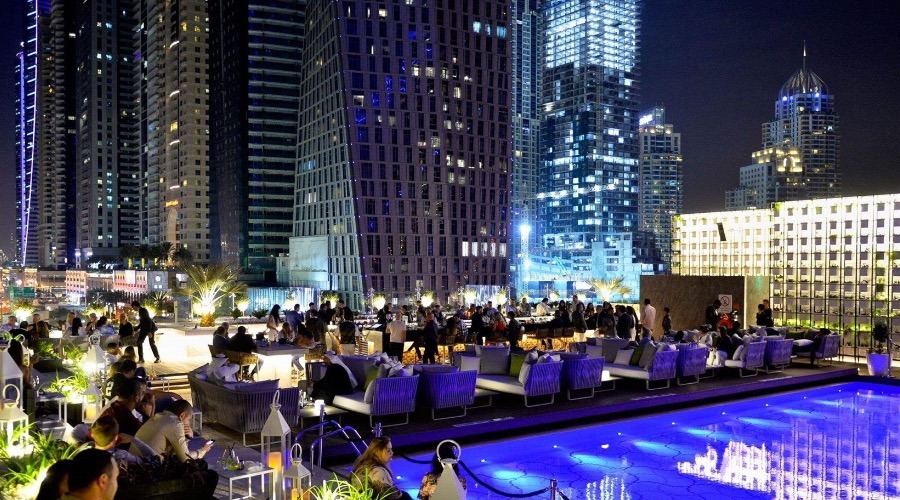 Siddhartha Lounge By Buddha-Bar
Feel the essence of Dubai and enjoy the panoramic view of Dubai Marina in the company of friends with a delicious dinner and aromatized shisha – all this is available in the Siddhartha Lounge By Buddha-Bar. This place, unlike small cozy shisha cafes, captures with its aura of openness, inspires with the spirit of evening festive mood and merging with a vibrant city. Every day, after five in the evening, guests are offered a wide selection of shisha in addition to a menu composed of Mediterranean and Asian dishes.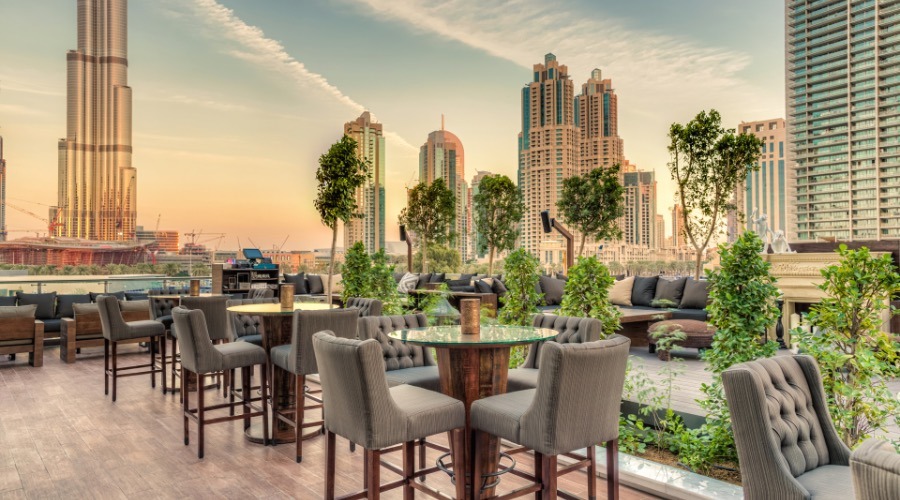 Treehouse Dubai, Business Bay
The Treehouse Lounge, located in Taj Dubai, truly resembles a treehouse, of course, more luxurious and magnificent. Comfort and relaxation during Mediterranean-style dinners with signature cocktails and pleasant music will last as long as you wish when you order an excellent shisha and fully enjoy the atmosphere of carefreeness. And the incredible views of the Burj Khalifa and the center of Dubai are simply breathtaking.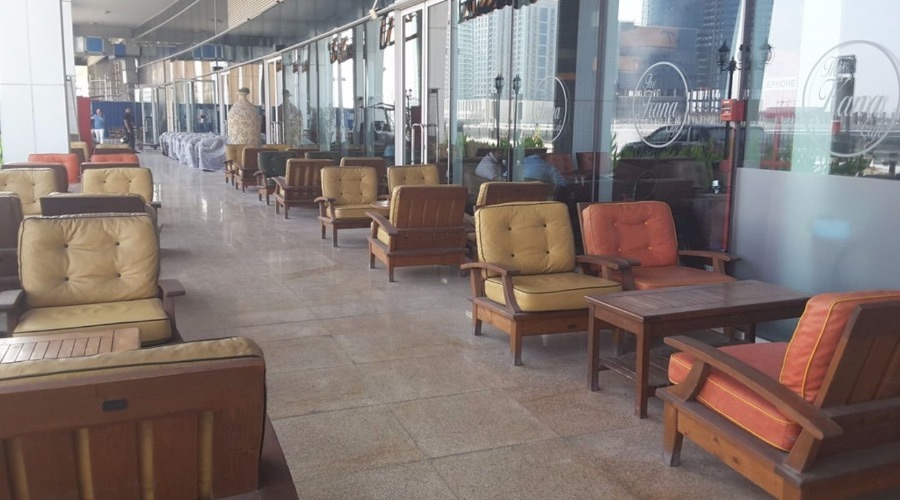 The Kana Cafe, Business Bay
Kana Cafe, famous for its thoughtful and attractive interior design, offers guests its signature shisha with unique tastes, the kind of which you are unlikely to find. This is one of the most visited places in Dubai, it is customary to spend friendly gatherings here and have a good time in a large company. You can stay inside and enjoy indoor shisha or sit outside taking pleasure in your meals and flavored hookah.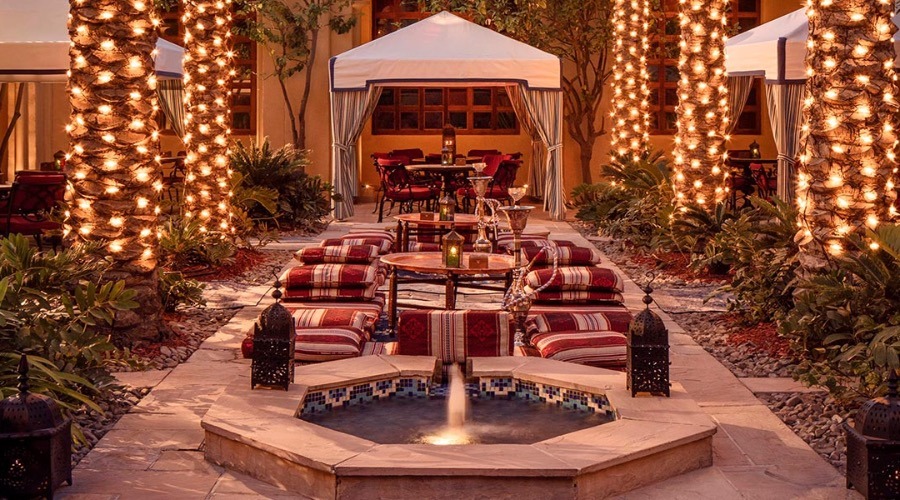 The Courtyards, Dubai Marina
If you are looking for a true atmosphere of the ancient East, then The Courtyards, created in the best Arab traditions, will be a great choice for an evening out. Luxurious carpets, comfortable pillows for sitting, Arabic music and, of course, shisha aromas. The atmosphere of the courtyard in the Arabian palace is recreated to the smallest detail and you will feel here as the most welcomed guest.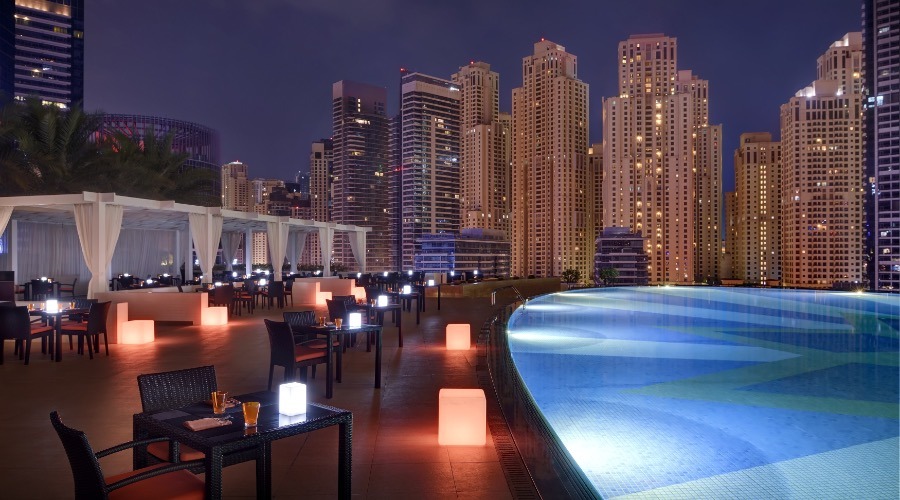 Shades, Address Dubai Marina
Shades is an iconic outdoor lounge with a stunning view of the infinity pool and one of the most popular shisha bars in Dubai. Relaxing in this stylish place that seems to lift you above the hustle and bustle of the city will allow you to chill out, enjoy the stunning luxury atmosphere, savor Mediterranean and Far Eastern dishes, a wide selection of drinks and a variety of shisha menu.