Dubai Marina is a highly urbanized district in the southwest part of Dubai, located along the coast, between the districts of Jebel Ali and Al Sufouh, next to The Palm Jumeirah and Dubai Media City.
Although the total area of Dubai Marina is only about 4 square kilometers between the coastline and Sheikh Zayed Road, it really feels like a real city within a city. This dense, vibrant, high-rise district is built around a large, 3 kilometers long harbor full of a variety of yachts, different in their types and sizes. By the way, Dubai Marina is one of the world's largest artificial marinas.
In many ways, the Dubai Marina district can be called a real «Manhattan» of Dubai. Being one of the most popular tourist destinations in Dubai, it is considered to be an elite, prestigious place to live. Many luxurious 5-stars hotels, like Habtoor Grand, Le Royal Meridien, Grosvenor House are located within Dubai Marina, both on the coast and closer to Sheikh Zayed Road. While having an evening walk, you will be able to hear many different languages and see people of different nationalities, cultures, and religions.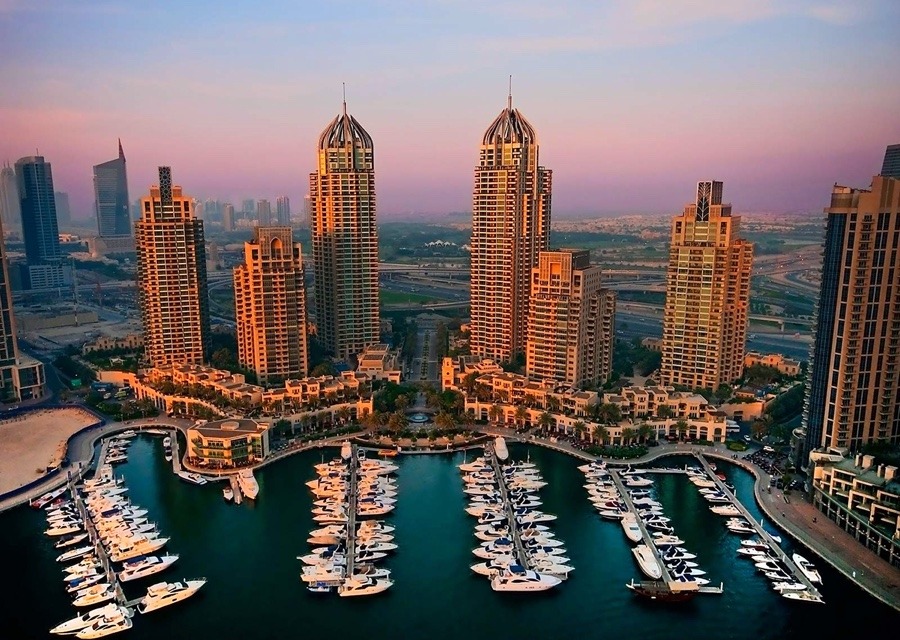 Today it is hard to believe that this area was once a desert. Today, Dubai Marina has 200 high-rise buildings with a population of about 120,000 people. 40 of these buildings are skyscrapers from 250 to 516 meters high. Thanks to that, Dubai Marina can now be seen from space with the naked eye.
To get acquainted with the whole area, just walk along the harbor and the streets. The footpaths here are stretched for many kilometers and are ideal for a leisure evening walk, or a quick ride using Dubai Tram. Trendy nightclubs, cozy cafes, luxury restaurants, and big shopping centers give the district a festive atmosphere. Especially great Dubai Marina looks at night when all the illumination is turned on. Life here rages round the clock.
It is also easy to rent a yacht, or even a larger ship with a restaurant and an entertaining program. These trips are widely available from various kiosks throughout Marina Promenade, and pretty easy to find.
Jumeirah Beach Residence
A large part of Dubai Marina is the famous residential area called the Jumeirah Beach Residence (JBR). It is the longest residential complex in the world, stretching for a length of 1.7 km along the coast and covering an area of 2 square kilometers. JBR consists of 40 buildings, more than 10 of which are hotels or serviced apartments, and almost all of which offer short-term stay rooms. The complex can accommodate around 15,000 people.
One of the favorite places for tourists and residents is the famous JBR The Walk – a long promenade located right in front of Jumeirah Beach Residence and stretching throughout its entire length. A large part of it extends to The Beach, a vibrant shopping and entertainment area built by Meraas. Both The Walk and The Beach offer a wide variety of dining options, cafeterias, bars, as well as shopping and leisure destinations, and furthermore – have direct access to the shore of the Arabian Gulf, with all necessary amenities like showers and changing rooms available 247. The Beach even has direct access to the famous Bluewaters Island with the biggest Ferris wheel in the world – it is quite easy to get there using a beautiful walking bridge.
The construction of the JBR began in 2002 and was completed in 2007 by the Dubai Properties Group company. Since then, it was extended and improved a number of times, becoming better and better with every iteration.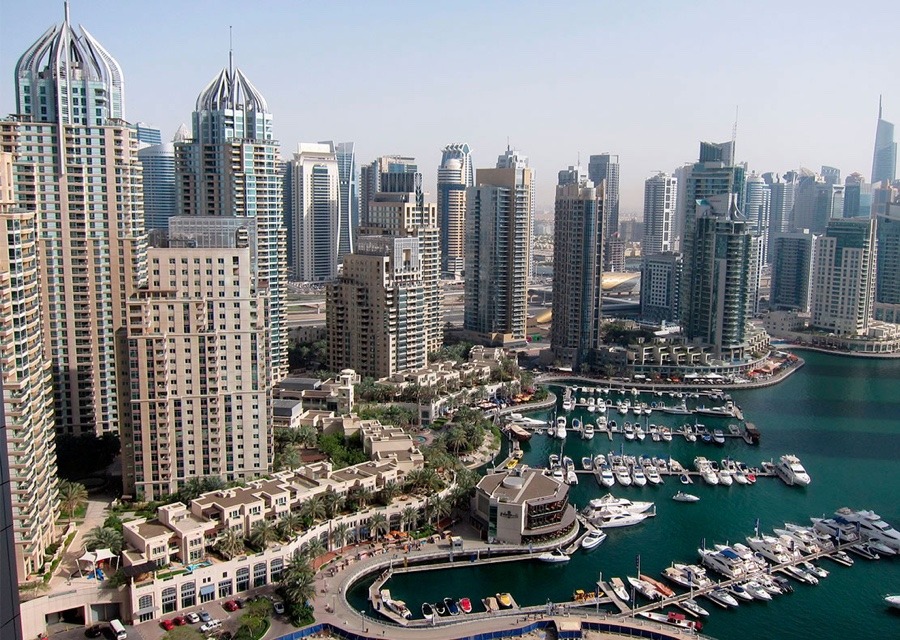 Attractions in Dubai Marina
Dubai Marina area includes so many attractions that describe them all would require a whole book with many colorful illustrations. There is a vibrant Dubai Marina Mall, great both for luxury and everyday shopping; a stylish Pier 7; Zero Gravity, a popular destination among local clubbers; ultra-modern Bluewaters Island; extreme Skydive Dubai, where you can purchase a tandem jump and discover the whole area from height, and many other locations. You can also enjoy one of many yacht cruises right from one of the piers, or rent a bicycle to enjoy an evening ride.
Story of Dubai Marina Creation
For its time, it was a very courageous development project, which was perfectly implemented. The idea of creating such an artificial marina first appeared in 1999. Its construction was divided into 2 phases. Phase 1 included the construction of the Dubai Marina Towers — six freehold apartment buildings, and a Marina Walk – a promenade between these towers. All first towers were given memorable names: Al Mass, Fairooz, and Murjan, as the names of gems, and Mesk, Anbar, and Al Yass, whose names remind of traditional luxurious fragrances.
Phase 2 consisted of the construction of skyscrapers, ranging in height from 250 to 400 m, combined into a single block – «Tallest Block in the world». Today, this block includes such important developments as Cayan Tower, Ocean Heights, Marina Pinnacle, Princess Tower, Elite Residence, and others. During the infamous economic downturn of 2009, some of the construction was temporarily slowed down – because of that, some of the buildings in the area are still under construction.
In conclusion, the Dubai Marina district is a prestigious residential area with direct access to the sea, which has everything you need for a comfortable life and an interesting pastime. Living here is like living in a city of its own, where you can find everything you would ever need. This is one of those places in the World definitely worth a visit.