Many people around the world know Dubai as a city of modern skyscrapers, wide roads and lavish, ultra-modern life. Yes, this is true, but tourists can find other places as well. Places where the soul of old Dubai remains untouched, just as it was in the 19th century.
Al Bastakiya District, also known as Al Fahidi Historical Neighbourhood is the historical district with traditional buildings, built in about 1890 by textile and pearl merchants from Arabia, who lived and traded on the coastline of Dubai Creek by many generations. There are about a few dozens of traditional buildings in this neighborhood, which are now, although carefully renovated, maintain their initial appearance. Time seemed to stop between these low houses and narrow streets, creating a unique atmosphere of Middle Eastern fairy tale. It is a cozy and peaceful old town, built without any use of modern materials, like glass and concrete structures. It is  an interesting place to relax or have a leisure walk between the narrow streets towards the beautiful Old Corniche, with Bur Dubai Textile Souk located just nearby on the right corner of Bastakiya, and Al Shindagha – on its left corner. And if you like to take photos, there is a great opportunity to make very interesting shots – especially during the evening hours.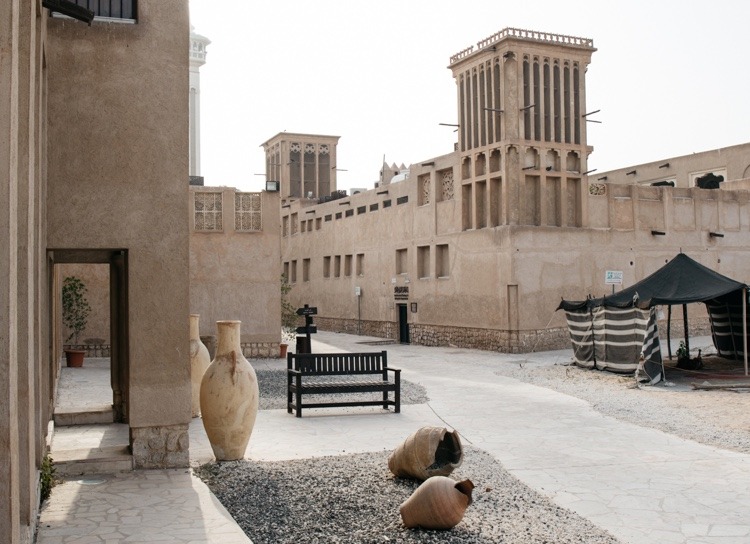 Places to visit in Historic Bastakiya
Al Bastakiya consists of several venues which will surely be interesting for tourists. Here you can find the Coffee Museum, Sheikh Muhammad Center for Cultural Understanding (SMCCU), Mawaheb Art Gallery, numerous small museums and important documents archives. If you want to feel the touch of traditional hospitality and smell the aroma of Arabic beverages, be sure to visit Arabian Tea House Cafe (also called Basta Art Cafe) or Make Art Cafe.
There is also a number of small antique shops, full of authentic souvenirs and other items of interest.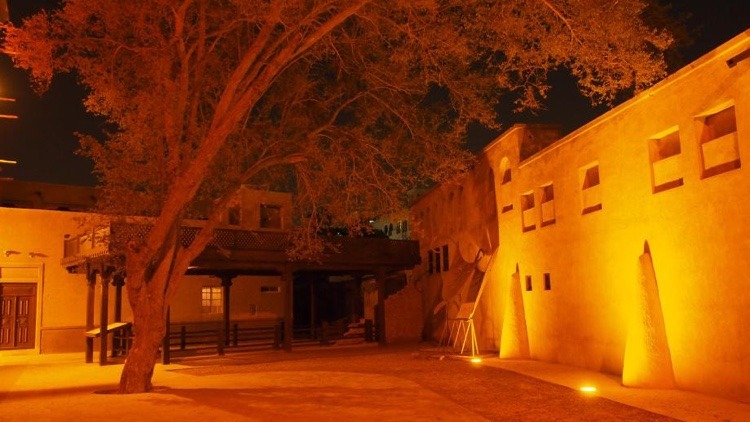 Sheikh Saeed Al Maktoum House
An important location within The Historic Bastakiya is Sheikh Saeed Al Maktoum House, a residential quarter built in the name of Sheikh Al Saeed Al Maktoum, the former ruler of Dubai. This building was established in 1984 and has been eventually transformed into the house museum. Located closer to Al Shindagha, at the Old Dubai Corniche, it contains all the artifacts of Al Maktoum lineage as well as important historical documents.
As difficult it may be to believe this today, but in 1989 Historic Bastakiya was about to be destroyed. Half of the district was demolished in order to build a new office complex and almost no one lived in the remaining houses. Fortunately, this decision was changed just in time, and Al Bastakiya has been saved as a historical district and an important part of Emirati heritage. In 2005 the Dubai Municipality decided to restore the old buildings in their initial appearance, renovate the Corniche, and recreate the whole neighborhood as a cozy, traditional, and almost magical tourist destination.
Time to visit Historic Bastakiya
Although the neighborhood is open 24/7, the best time to visit Al Bastakiya may be during the sunset, when the heat of the day fades, as the whole place is colored in shades of red. During these hours, the magic of Al Bastakiya is in its strongest state, and this neighborhood truly becomes the very soul of Dubai.