Summer might seem a complete off-season for a visitor of Dubai. Heavy heat makes it hard to stay outdoors, and many foreigners, working in the city, actually try to take a vacation for summer months.
But it doesn't mean that there's nothing to do in Dubai during the summer season: the rich and vibrant city still offers a wide array of attractions for casual tourists and for experienced travelers alike.
Also, the weather problem actually sounds worse than it really is. First, the air conditioning (available in Dubai Metro as well) makes life a lot easier. Second, some of the outdoor attractions are available in the evening and night when the temperature becomes more or less tolerable. Apart from that, there are some benefits in a low season itself. Many Dubai hotels and resorts, as well as shops and markets, offer considerable discounts for summer months. And with fewer people in the city, one can expect fewer crowds and shorter queues.
As for the activities proper, some options are quite evident – like eating or shopping. Dubai's markets and malls are famous all over the world, and a great number of cafes and restaurants is available to the public, offering a wide variety of cuisine and experience for every taste and pocket. But in a city like Dubai, one almost certainly would not want to limit the visiting impressions to these trivial variants. So, here are some options for those who are willing to make the most of the summer trip to Dubai.
Dubai Summer Surprises
A bright and vibrant city-wide event, the Dubai Summer Surprises (DSS) is known as "the hottest UAE festival". It usually takes place during two weeks in midsummer and aims to advertise Dubai as a family-friendly destination, as well as to attract visitors during the low summer season. Think unique deals and promotional events from retailers, live performances from skilled musicians and dancers, fun character encounters and games for children and much more. The dates and schedule vary from year to year, but anyway, if you are free to choose the time of your summer visit to Dubai – the DSS will almost certainly be the best choice.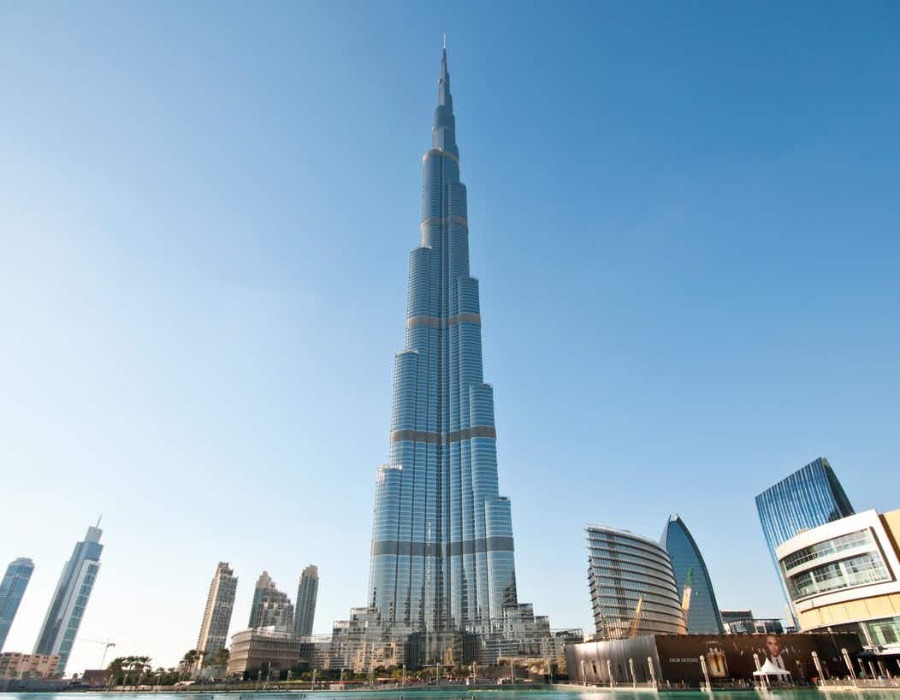 Burj Khalifa
The most outstanding (literally) landmark of Dubai, the tower of Burj Khalifa offers a breathtaking view of the city. But that's not the only attraction available at the tallest building in the world. It's hot outside – so what about combining the stunning view with a refreshing dive into a swimming pool? Two pools are actually available to the public – indoor and outdoor.
It's also worth mentioning that Burj Khalifa facilities include professional gyms and spas, and even a "ladies only" floor for these activities.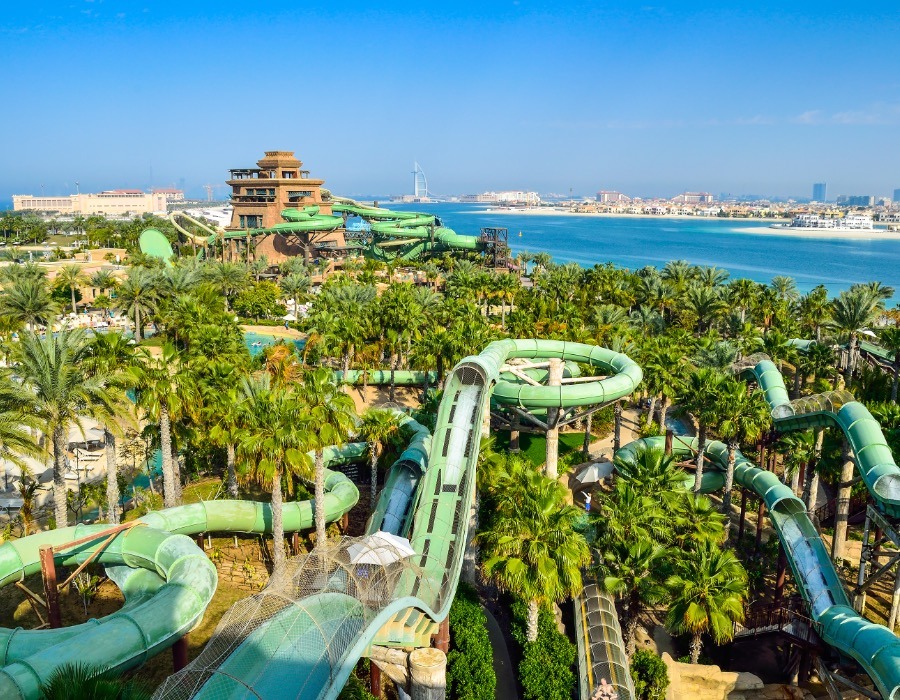 Aquaventure Waterpark
Located in a grand Atlantis The Palm and dubbed "#1 waterpark in the Middle East", the Aquaventure is a perfect place to cool down in the Dubai summer heat, offering fun and thrill for anyone – from small kids to adults, from science geeks to the adrenaline addicts. The set of water slides features the breathtaking Aquaconda – the longest slide of its kind in the world. Need a safe and fun place for children? Splasher's Children's Play Area at your service! Just don't forget the sunblock for being outdoors.
And if you feel like hiding from the sun and enjoying a full immersion into the deep blue – you may put on a special helmet, allowing to breathe and walk underwater and enjoy the fascinating views of the sea life. You don't need to be a certified scuba diver, and this experience is available for children as well, starting from the age of 8.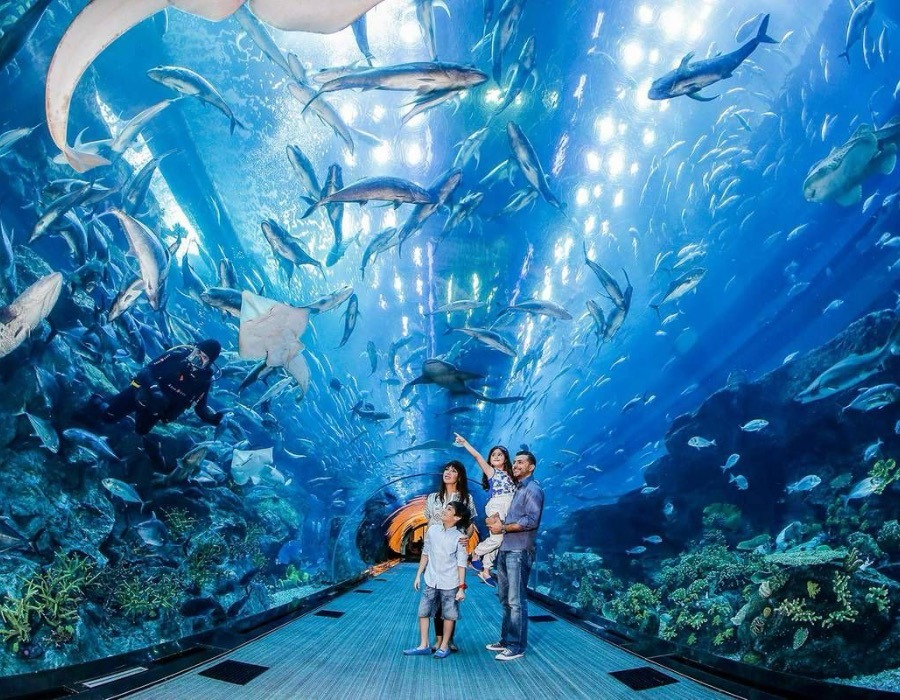 Dubai Aquarium and Underwater Zoo
Speaking of the underwater world, one cannot omit the Dubai Aquarium and Underwater Zoo – a perfect option for the fans of marine fauna who don't want to get wet themselves. Located in the Dubai Mall, the place features a 48-meter long Aquarium Tunnel, three different environments in the Underwater Zoo and a wide array of other entertainment. The visitors can choose different experience options – from the basic walk around the tunnel and the zoo to the "all-inclusive" VIP package. And the "encounter" packages allow you to safely interact with aquatic animals – from cute fluffy otters to the formidable King Croc.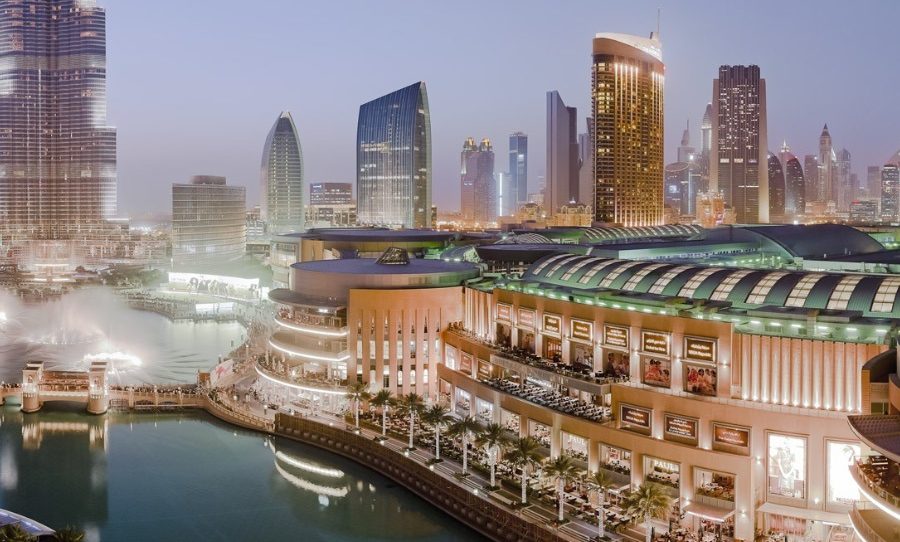 Dubai Mall
Once again, shopping may seem quite a trivial activity… but not when it comes to Dubai Mall. It's not just some mall – it is THE Mall, the biggest one in the world, with a floor space of a whole million square meters and more than 1200 stores. Being a place of fashion and luxury, the Dubai mall is also home to a set of family-friendly entertainment facilities. Those include the above-mentioned Aquarium and Underwater Zoo, a cinema (featuring a unique 270° screen), a VR park and even a skating rink!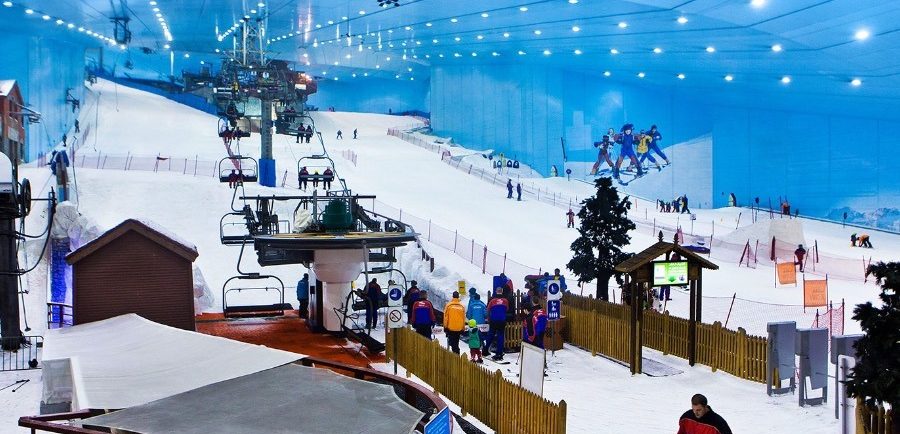 Ski Dubai
If the skating rink isn't enough, you can take a drastic change in climate and literally chill out in Ski Dubai – a full-fledged snow resort located in the Mall of the Emirates. Boasting 3000 square meters of snow, the park offers five snow runs of various difficulty (the most extreme one being 400 m long with a 60 m drop), with a chairlift. Moreover, the Freestyle Zone is available for stunt practicing, and other entertainment options include sledding, bobsled, zorbing, toboggan and much more. Winter clothes and gear can be rented on the spot.
Conclusion
In conclusion, we should mention that the above list is not even nearly full. To cover all the summer activities one can undertake in Dubai, you may need a dozen of articles like this (or even more). We chose to describe some of the most outstanding options, and here are some more, worth at list a brief mention:
Museums and art galleries – plenty of them, from traditional ones to fancy Museum of Illusions and hi-tech Museum of the Future;
Deira Night Souk – the world's largest night market;
The Green Planet – a huge indoor rainforest ecosystem located in the City Walk complex;
Hub Zero – a true paradise for gamers;
Dubai Sports World – a destination of choice for an intense workout or for a friendly team game.
So, don't let the heat discourage you: Dubai can keep a visitor fully entertained even in the "off-season" time.