Islamic New Year, also called Hijri New Year is a holiday with the advent of which the whole Muslim world marks the beginning of a new year.
This year, the first moon of the new month will mark the beginning of 1441 year according to Islamic chronology. Such a difference with the Gregorian calendar is explained by the fact that a special date from the life of the Prophet Muhammad (PBUH) is put behind the reference point in the Muslim calendar. In 622 CE, he led a Muslim community that moved from Mecca to Medina. This migration process is known as the Hijra.
Since the Muslim calendar is based on the lunar cycle, then the advent of the new year is associated with this celestial phenomenon. The last month of the year, Dhu al-Hijjah is coming to an end, the first month of the next year, called Muharram, begins. The beginning of the first month of the year is determined annually by special astronomical committees in Muslim countries following a moon sighting. 
If observers consider that on a certain day the crescent of the moon is visible, it is this day that gives a start to a new month, and in this case to the whole year. The beginning of a new day and year is considered the evening when the crescent of the moon is appeared. Thus, the first day of the new year will end also in the evening of the next day.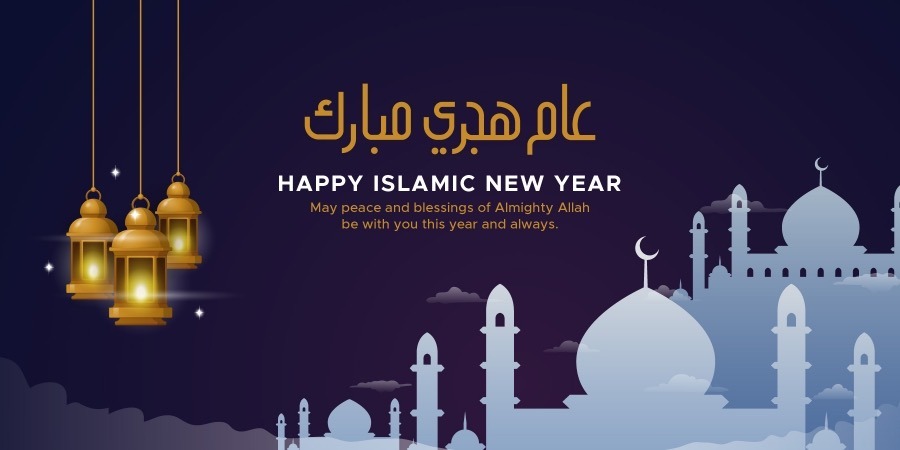 Residents and guests of the country will learn about the onset of the holiday after the UAE's moon-sighting committee announces this. Usually, the committee meets on the eve of the estimated date indicated by astronomers. New Year's Day is declared an official holiday and a day off if it falls on a working day – this applies to both, public and private sector. Schools also will postpone classes in this case (of course, schoolchildren are especially happy with the coincidence of the new year and the first school day).
The celebration of the New Year in the emirates is almost no different from the rest of the Muslim world. However, if you want to visit Dubai or other destinations in the UAE on New Year's Day, then remember that on this day a total ban is imposed on the sale of alcohol. Another nuance that tourists should consider, this time more pleasant, is that all parking in Dubai and Abu Dhabi will be free on New Year's Day.
The celebration of the Islamic New Year is not such an exciting event as, for example, two Eid festivals. Nevertheless, this is an extremely significant event for Muslims, and widespread celebrations are held on this day. People gather in mosques for prayer meetings, and also traditionally spend time with their families, relatives, and friends at holiday celebrations.