After the end of the holy month of Ramadan, Muslims around the world will celebrate Eid al-Fitr (Arabic: «the feast of the breaking of the fast»). It's the first of two very important Islamic festivals.
Eid Al-Fitr is celebrated on the first day of the month Shawwal — the 10th month of the lunar Islamic calendar. The holiday will begin as the new moon appears in the sky (some Muslims begin to celebrate when the moon rises over Mecca). And the celebration continues for 2-3 days usually.
As well as other Islamic holidays, Eid Al-Fitr doesn't have an exact date on the Gregorian calendar. It's because the Islamic calendar is based on lunar cycles while the Gregorian calendar is based on the solar cycle. For this reason, the date of the celebration is constantly changing. For example, in 2018 it was on June 15, and in 2017 — on June 25.
On the day of the holiday, Muslims perform a festive ritual Salat al-Eid (Eid prayers), put on the best clothes, prepare traditional dishes. Traditional greeting is «Eid Mubarak!» which means «Have a blessed Eid!». Also on this holiday, it is customary to give a lot of different gifts, especially to children. People visit each other, friends greet one another. Everyone gathers at the holiday table, congratulating loved ones, family members and friends on the holiday and the end of the fast. This is a time of universal joy and fun. On this day all Muslims thank Allah for all blessings bestowed upon them by Him.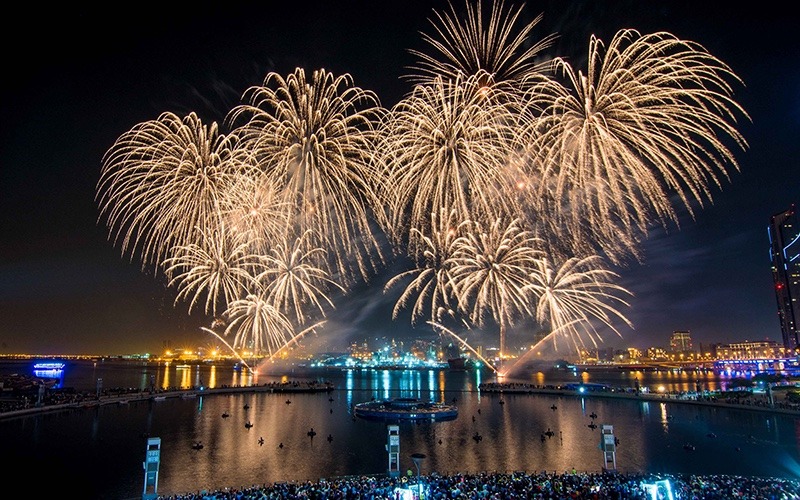 On the joyful day of feast Eid Al-Fitr in Dubai many different events are held. Tourists have a chance to see some spectacular entertainment in many places — special performances, concerts, shows, dance performances, live music, and so. It's interesting both for adults and children. During the holiday malls are often provide attractive discounts. Since the holiday is dedicated to the end of the fast, it's not surprising that these days you can try really tasty food. Many local dishes are prepared for the guests at the numerous cafes and restaurants. This is a great time for gourmets.
And then be sure to visit the Dubai Festival City! There you can see amazing exclusive fireworks display to celebrate Eid Al-Fitr. This feast — is one of the best time to visit Dubai with family!