The UAE provides tourists with many opportunities to have a great time. Everybody can choose what they want.
If tourists just want to relax, then many shops and beaches are for their services. And if you love active pastime, you can choose from a variety of options, from parachuting to freediving.
Thousands of people around the world believe that freediving is one of the most interesting and beautiful sports. And indeed, without carrying any additional heavy equipment, a person receives complete freedom of movement in the amazing underwater world.
Today everybody can start freediving. And coasts of the UAE are the destinations that attract people all over the world.
History of freediving
The depth of the sea has always attracted people. Starting from the Age of Discovery, people were constantly creating various equipment that allowed them to make longer and longer dives. The most important step was made in 1943 when Jacques-Yves Cousteau invented scuba set. As you can see, works in this direction began quite recently. But before that for thousands of years, people in various parts of the Earth dived without any equipment at all.
Initially, people dive in depth in search of food and treasure. And another reason was curiosity, the inescapable desire to find out what the sea waters conceal in themselves, the desire to feel that magnificent sense of freedom, which is possible to experience only during the dive. In those years, the divers didn't have (and couldn't have) any additional equipment. They could only rely on the capabilities of their bodies and on the ability to hold their breath.
It can be said that freediving played a huge role in the history of the UAE. After all, for a long time, emirates were engaged in the extraction of pearls, for which it was necessary to dive to great depths. This was happening until recently, in the first half of the twentieth century.
But, despite the fact that people engaged in freediving for many millennia, for a long time it wasn't considered a sport. But since the 40s of the twentieth century, there has been a growing interest in diving. The growth of interest was caused by the appearance of scuba. But not everyone can afford special equipment. And not everyone wants — many people appreciate the simplicity and naturalness of immersion without equipment, which makes them closer to nature and allows them to get a deeper feeling. Freediving has ceased to be only a profession, becoming also a sport.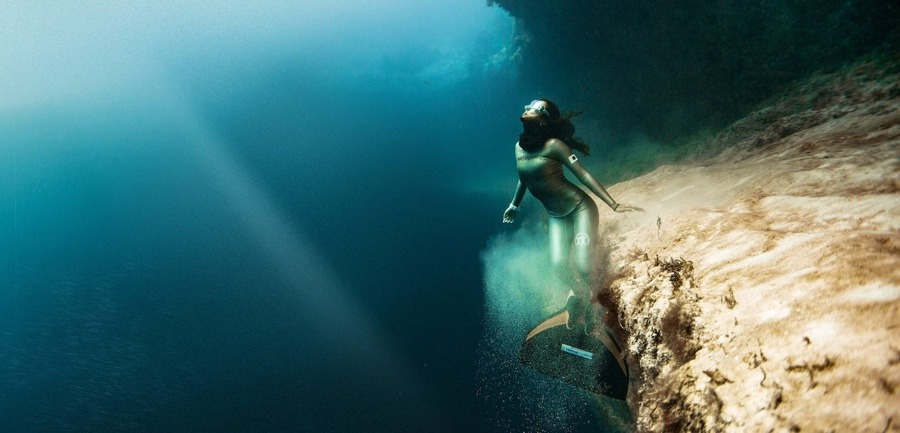 In 1976, athlete Jacques Mayol overcame the mark of 100 meters. Before that, it was believed that a person can't dive to a depth of more than 50 meters for physiological reasons. And in 1996, the first freediving world championship took place in Nice. First, it did not attract much attention. However, after a few years, athletes from dozens of countries took part in the championship.
Freediving in the UAE
In the UAE divers can find here a number of interesting places — coral reefs, the remains of sunken ships, a flooded drilling platform, etc. In the waters of the Gulf, you can see a lot of various wonderful marine animals, including whale sharks, octopuses, and giant turtles.
Visibility in the Gulf's waters under good conditions usually is not too high, ranging from 5 to 20 m due to strong currents in the Gulf. Temperature varies from 22 to 30, making it possible to dive all year round, but winter and early spring are just the perfect time for diving.
The dive can be made in Dubai and other emirates. It is believed that diving in Dubai is more suitable for beginners who don't require big depth. On the east coast of the UAE in Fujairah — the only emirate which lies on the coast of Indian Ocean — the service is not so developed, and it's more difficult to get there. But you will find a more diverse underwater world here — beautiful clear water, coral reefs and the likelihood of encountering unique marine animals. Because of that, mostly experienced divers go there.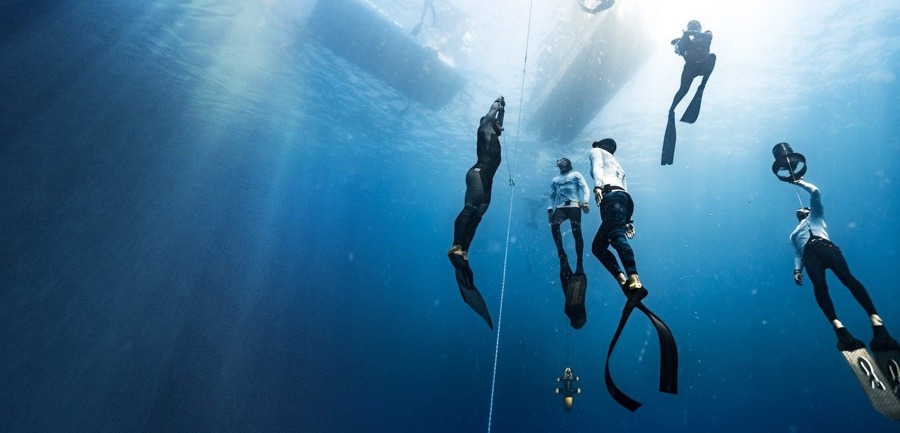 Fujairah regularly hosts diving meetings, for example, in places like Sandy Beach. And in October 2018, the first Fujairah Freediving Competition was held here. It can be assumed that such events will take place in the future, constantly expanding.
And if you want to get a similar experience yourself Freediving UAE can help you to take the first step under the water. This company exists since 2009 and was first in the UAE that had specialization in freediving training. The courses developed by the company allow everyone to become a confident freediver. Freediving UAE has experience in organizing training with the best trainers and freediving champions from around the world. The company brings together people enchanted by the depths of the sea.
Remember, it's prohibited to touch or surface corals and harass other marine life. And you definitely can't take such items out of the country.