Flag Day — is one of the most important holidays in the UAE. Usually it is celebrated on 3th November, but sometimes the date varies (for instance, in 2017 the holiday was on 2nd November).
The celebration is relatively new. It was established in 2013 by His Highness Sheikh Mohammed bin Rashid Al Maktoum, Vice-President and Prime Minister of the UAE and Ruler of Dubai. On this day flags are raised over all federal ministries and departments all over the country at 11 AM, at the same time the National Anthem sounds. Embassies participate in the flag raising ceremony as well. All begin in the UAE Embassy in New Zealand.
With great pleasure ordinary people also hangs out flags on their houses, backyards and cars. Everyone can listen to lectures about the significance of the flag, its symbolism and history. On this day you can find the elements of national identity almost everywhere. For example, famous tower Burj Khalifa is painted in the colors of the national flag. 
For residents of the country, the flag is associated with memories of the past and dreams of the future. As His Highness Sheikh Mohammed bin Rashid said:
«Our Emirati flag is the symbol of our union and strength, it is the pride of our parents and our children, under it's banner we continue the march of progress and by raising it, our young people build the future»
The history of the flag began on 1971 — the year when six of the emirates agreed to enter into a union and the UAE was established. But it is not just a symbol of the unity and strength of the country. Every color of the flag has a deep meaning.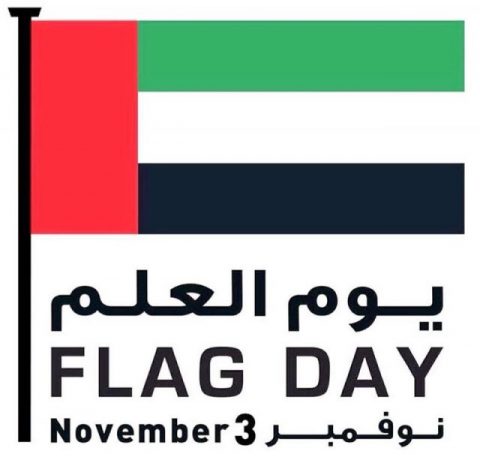 The national symbol of the country is a rectangular cloth with a ratio of length to width of 2:1. The flag have 4 strips: one vertical bright red and three horizontal — green, white and black. Every of this pan-Arab colors have a deep meaning for every citizen of the country. On the Internet and in other sources, you can find different interpretations of the meanings of flag colors. Here is the most common interpretation. The red one symbolizes sacrifices of the previous generation thanks to which the modern achievements of the nation have become possible. The green one — is the symbol of prosperity and growth. Located under it white color means supporting peace and security in the world. Finally, black color symbolizes the power of UAE citizens, their desire for justice.