On the 30th of April HH Sheikh Mohammed bin Rashid Al Maktoum, has given permission to the Roads and Transport Authority to develop a new SkyWay urban transport system, alongside with other innovative projects to continue the development of the world's best city.
SkyWay project, or SkyPods project, as it was presented, is a 15-km pendent transport system that will pass through Happiness Street an up to the City Walk and will have 21 stations in its route. This transit system has a goal of connecting the most vivid and important parts of Dubai and will have the capacity to transport 8,400 riders per hour in each direction. These new type driverless vehicles can move at speeds of up to 150km/h.
In addition to the given points and goals of the project, The Dubai Media Office attached a short visual representation giving examples of the vital places in Dubai such as DIFC, the region's  leading financial centre, and Downtown Dubai,  which will be easily and quickly reachable via sky pods. «The ShyPods offers an urban transit experience that features modern-designed pods passing through Dubai's towers. It is characterized by uniquely designed stations and rail-supporting structures extending along the track. The project will maintain design harmony with the Dubai Metro stations», they added.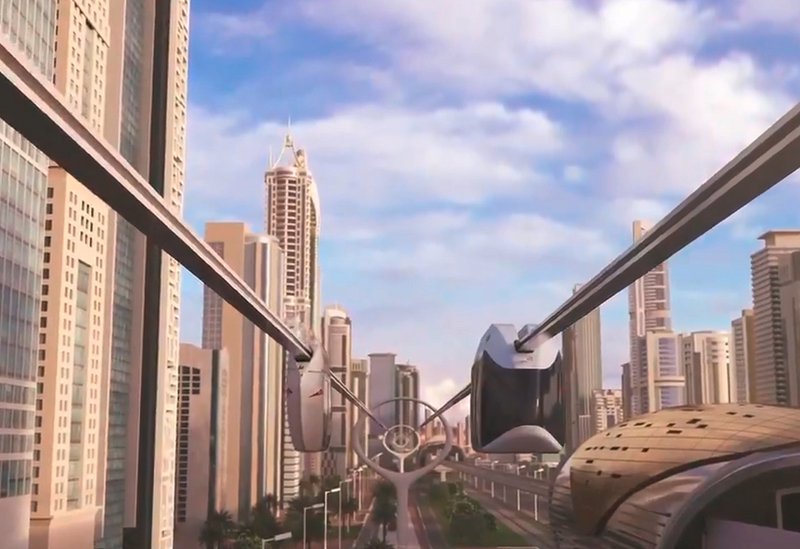 Anatoly Yunitsky, General Designer of the SkyWay enhanced transit system developer company, had this to say: «We are happy that the government of Dubai has chosen our technology as a tool for the development of the region. This is not only a great honor but also a huge responsibility for the entire SkyWay team. We must justify the confidence placed on us and fully demonstrate that string transport truly meets the criteria for the transport of the future».