One of the first major events in the 2019-2020 season was The Abu Dhabi Showdown Week.
Among a number of notable events during this week was the live concert of Red Hot Chili Peppers, a legendary American rock band, which took place on Wednesday, September 4th. As expected, it had tremendous success. The Arena on Yas Island with a seating capacity of 13,000 spectators, was completely full.
The Abu Dhabi Showdown Week itself was a series of activities that preceded UFC 242, the world's most famous Mixed Martial Arts event. Notably, the main attraction of the event was a long anticipated fight for the UFC Lightweight Championship title between current champion Khabib Nurmagomedov and Dustin Poirier, which ended with Khabib's victory.
The new venue itself was built specifically for UFC 242 to host this outstanding sporting event. It attracted the attention of fans from all over the world, who booked their tickets in advance for the whole week. The organizers packed all seven days of Showdown Week with entertainment events – so densely, guests had no time to get bored at all. Among the rest, the main event of the week (apart from the Saturday fight itself) was a live performance of RHCP. At the same time, the famous band was on a world tour to promote their album The Getaway, the eleventh studio album of the band. The album was released in 2016 and was welcomed by fans and critics alike, starting from the first lines of the charts in different countries of the world.
At the concert, songs from this album were played, such as Dark Necessities, The Getaway, and Go Robot. And judging by the reaction the audience, they were all praised, quickly becoming classics like Californication, Can't Stop or Give It Away. The group once again confirmed its stellar status and showed that it could fill the whole huge audience with a mad energy, without slowing down for a minute.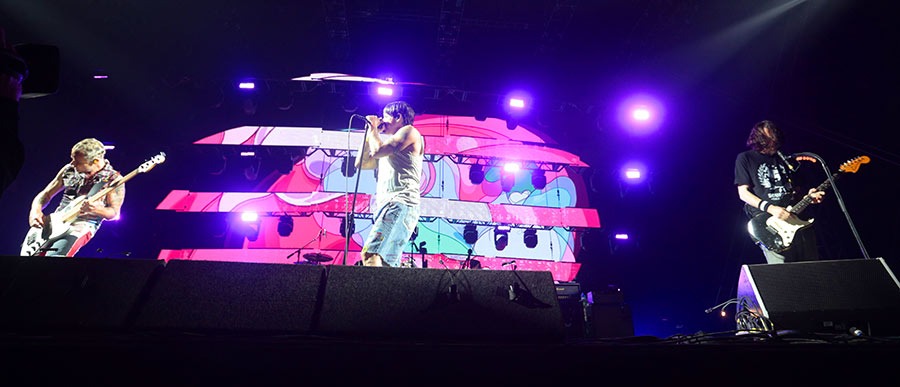 About Red Hot Chilli Peppers
Red Hot Chili Peppers was formed in 1983 in Los Angeles. The lineup of the group has changed several times, today it includes vocalist Anthony Kiedis, bassist Flea (Michael Peter Balzary), drummer Chad Smith, and guitarist Josh Klinghoffer.
The band achieved its maximum success in the 90s. But unlike many rock bands of that time, Red Hot Chili Peppers never left the stage. And they did not just go on tours, reminding devoted fans of old songs, but continued to create new hits, repeatedly blowing up hit charts. Today, Red Hot Chili Peppers is one of the most successful musicians in its history, with their 80 million records sold, six Grammy Awards and a place in the Rock and Roll Hall of Fame.