The government of the United Arab Emirates pays a lot of attention to the education system. After all, the future of the country depends entirely on how educated its citizens are.
Until 1970, only residents of cities could receive education in the Emirates, and its quality was not very high. The very first schools began to open as early as the beginning of the 20th century, but their number was small. In order to get a higher education, it was required to go abroad, which not everyone could afford.
However, after the United Arab Emirates was formed in 1971, the situation completely changed. The leadership of the new country has paid a lot of attention to the education of its citizens. In Al Ain, Abu Dhabi, the first university was created — the United Arab Emirates University. As a result of the many measures taken, a very effective education system was created, which continues to be constantly improved to this day. Today, there are three state and more than 130 private and international universities in the country. About 25% of government spending goes to education annually. The overall literacy rate in the country exceeds 90%. Significant advances have also been made in ensuring women's access to education.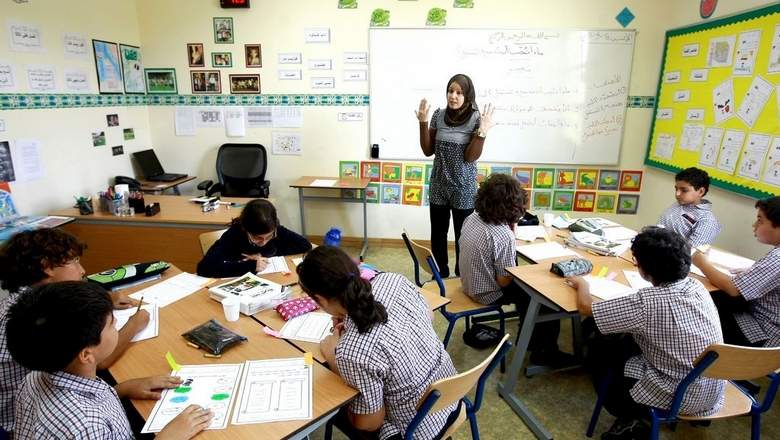 The education system in the UAE consists of three categories: public schools, private schools, and universities. Primary and secondary education (6 years in primary school, and 3 years in secondary) is free (for citizens of the country only) and is compulsory in public schools for boys and girls. In primary schools, girls and boys can study together, but later on, separate education is provided.
Education in public schools takes place according to the Arabic curriculum. Private schools can choose from 15 different programs according to their preferences. Education is conducted in Arabic, which is mandatory for any curriculum. In private schools, a lot of attention is paid to the English language.
After completing the Primary School and Preparatory School, there are 3 years of study at the Secondary School, at the end of which a Secondary School Leaving Certificate is issued, which is required to enter the university. Next comes higher education, also free for all citizens of the country. Entry requirements for UAE institutions of higher education differ depending on the university choice and qualifications. However, for admission to international universities, where teaching is conducted in English, a certificate of passing an international test for proficiency in English, TOEFL, or IELTS, is always required.
The government of the country is very serious about the quality of educational services. Every year, a special state agency Knowledge and Human Development Authority (KHDA) inspects universities and private schools, compiling a national ranking of educational institutions. Each private school in Dubai is assigned 1 of 4 categories: outstanding, good, acceptable, and unsatisfactory.
In a very short time, the UAE government has managed to significantly increase the level of education in the country. Modern students from Dubai, Abu Dhabi, and other emirates no longer have to go abroad in order to get a higher education. Moreover, now students from other countries come here to study. Today, students of 183 nationalities study in the UAE. As Sheikh Zayed bin Sultan Al Nahyan said, the best use of wealth is the nurturing of literate and educated people.