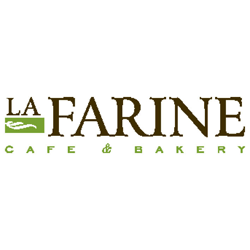 Add to favorites
Anything wrong with the venue information? Notify us!
25.185618
55.2577
La Farine, Dubai La Farine - Sheikh Zayed Road - Dubai - United Arab Emirates
La Farine is a contemporary café and bakery where guests can gather, socialise and enjoy gourmet fare in a casual and comfortable setting.
Serving 'the best baguettes in Dubai', La Farine also features a delectable selection of homemade pastries, a range of boutique French products and beautiful bespoke cakes crafted by the cake artist.
A cup of zingy berries is brought along to start, followed by a three-tiered selection of sandwiches and cakes. Classics such as cucumber and cream cheese sandwiches are given a modern twist – the bread being fully wrapped in a thin slice of cucumber.