Sometimes you need a break from hustle and bustle of big city life, especially – when traveling across the borders is not an option. Malls, beaches, and parks are not always a good solution, and a more drastic change of surroundings is needed.
But not everyone realizes there is more to the United Arab Emirates than just highly developed concrete giants. Nature environment in the UAE is very rich and diverse, and while it offers a lot of options we would like to present our own selection of the best ones.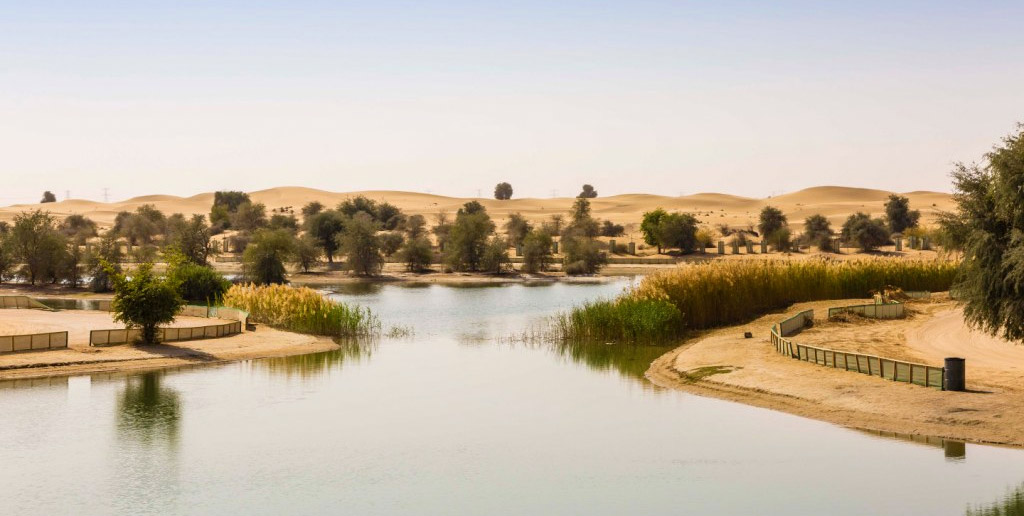 1. Al Qurda Lakes, Dubai
These series of lakes can boast of having more than 200 species of birds living there, some of which are endangered, such as the Steppe Eagle and the Asian Houbara. You can observe birds like swans, geese, ducks, and flamingos also desert foxes and onyxes, all in their natural habitat. If you are not into bird-watching, this desert oasis also allows you to picnic, camp, or simply have a general tour with a leisurely ride around the lakes. It takes only a 30-minute drive to get to Al Qurda Lakes. Nevertheless, it is advised to come prepared, for there are not any amenities there.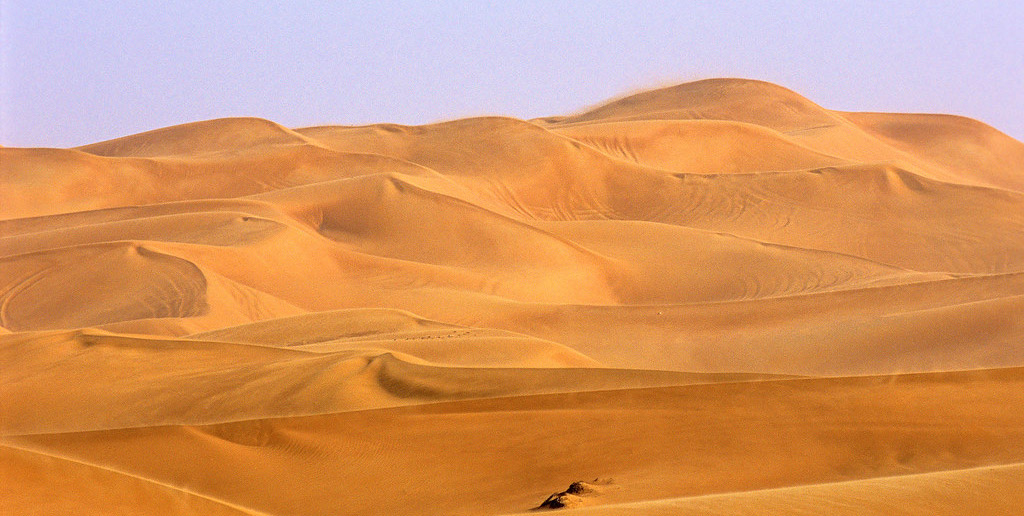 2. Open Desert and Big Red, Hatta/Oman highway (E44), Sharjah
While driving from Dubai for 45 minutes to your destination you will be already surrounded by beautiful views of red-colored open deserts, also known as Al Hamar. This out of this world scenery will also greet you at Big Red, one of the most popular dune bashing sites in the UAE. This particular one has the easiest routes, so it is quite friendly to both amateurs and professionals. A lot of people come here for that adrenaline rush, but this place also offers guided tours through the dunes or picnicking during the cooler hours. And as always, follow the general instructions like going as a group and respecting the place where you rest.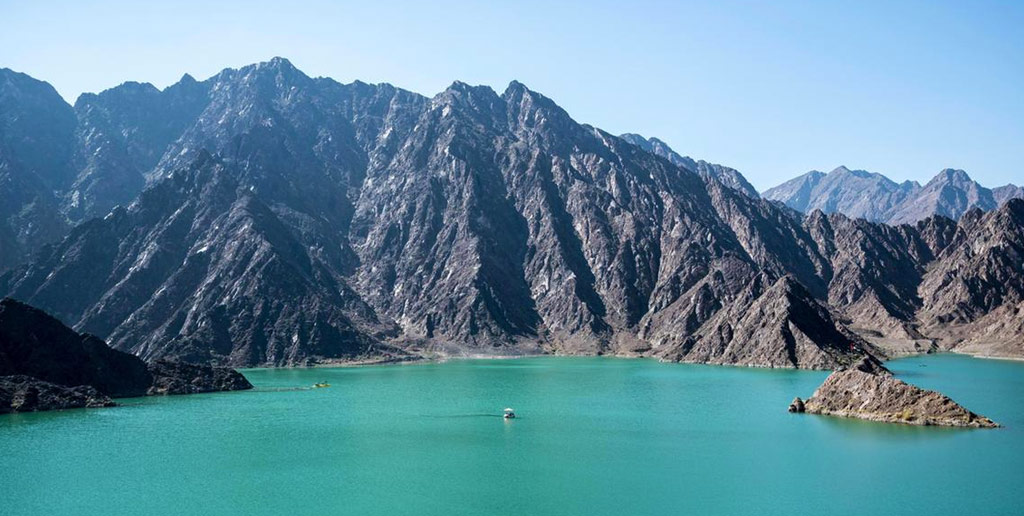 3. Hatta Lake, Dubai
It takes around one hour to get to Hatta from Dubai but it is really worth it. This place is well known for its turquoise waters and mountain sites. The location might not be super remote but the contrast between temperature in an urban city and mountain lakes is noticeable. Hatta Lake also offers you a lot of water and surface activities: hiking, kayaking, biking, paddleboarding, and camping.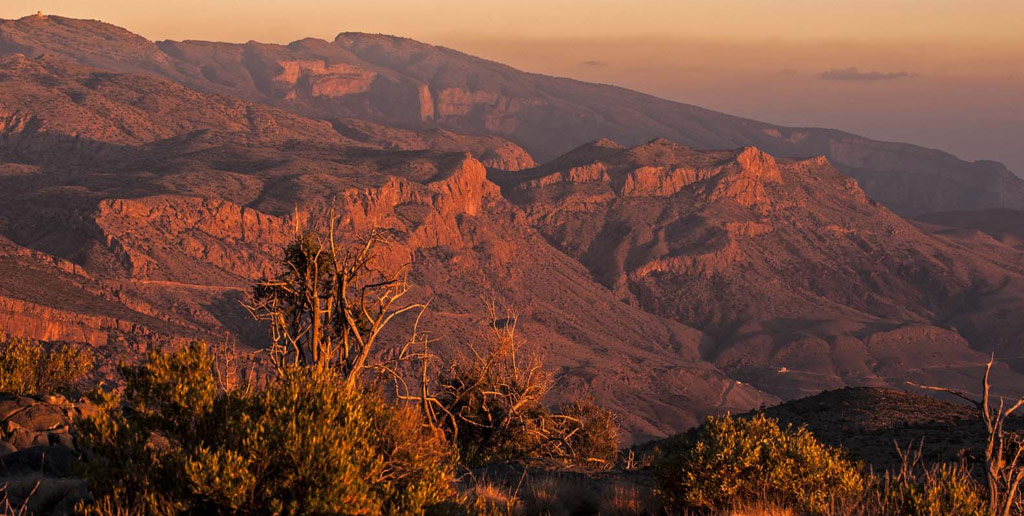 4. Al Hajar Mountains, Fujairah
These mountains separate the western part of the UAE from Fujairah and it is a perfect spot for exploring rocky and dry terrain. This place is very arid and it is known for its beautiful wadis( wadi is basically a dry site except for the rain seasons). After hiking through wadis you can also visit the Ain Al Madhab hot spring. It is located in the foothills of the Hajar Mountains, outside of Fujairah city, and is easily reachable by taxi or car.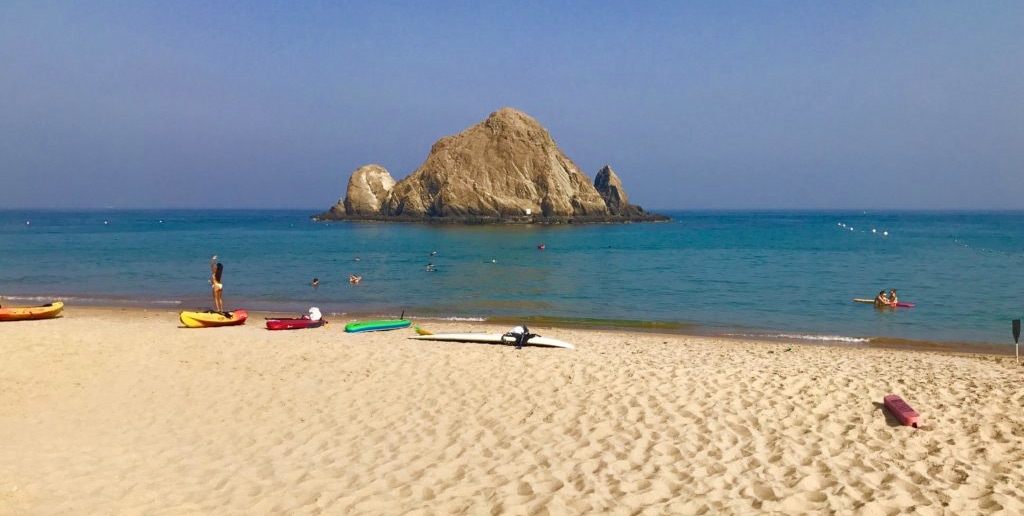 5. Sandy Beach and Snoopy Island, Al Aqah
If you want to reach this top, must-do for water enthusiasts resort you will need to drive 45 kilometers north from Fujairah city. With a peculiar "Snoopy Island" outcrop right offshore this place offers you the best snorkeling and scuba diving experience in all of the United Arab Emirates. And if you just want to rest on one of the beaches to sunbathe, it will provide you with everything you need to fully relax.
Read the bigger story about Al Aqah and Sandy Beach.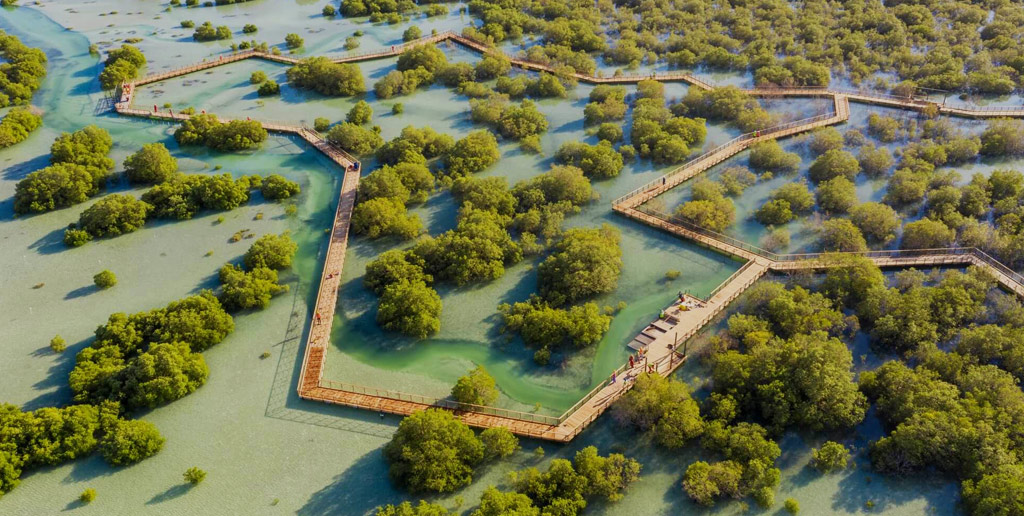 6. Mangrove Forests, Abu Dhabi
Mangrove forests have become the center of attention when their population has been reduced with rapid constructions. That is when the conservation program has been set in motion. One of such conservations, the Mangrove National park, is situated in Abu Dhabi. This natural and peaceful area offers its visitors the option of kayaking, paddleboarding, or ordering a boat tour. The water is quite clear so it allows you to observe both small and large animals when traveling on a boat.
Read a bigger story about Mangrove Forests in Abu Dhabi.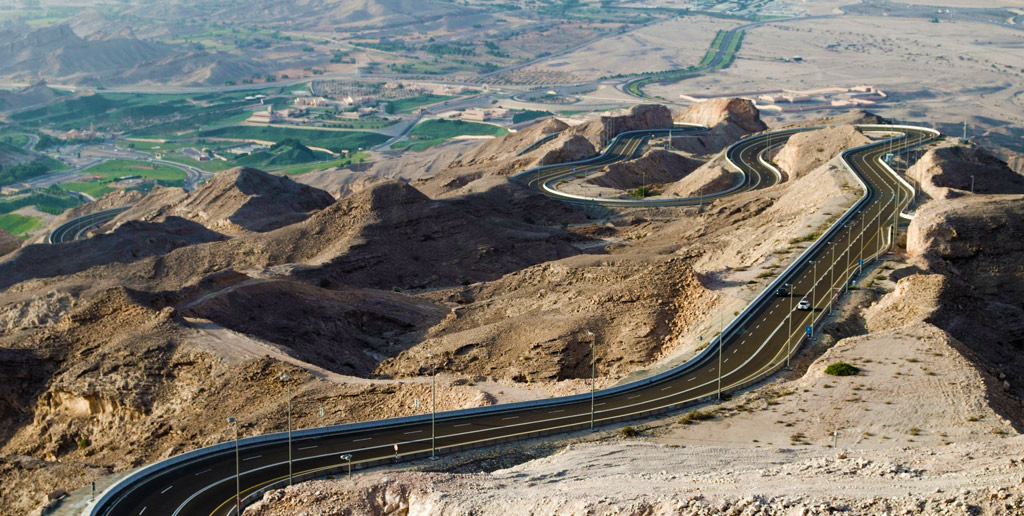 7. Jebel Hafeet Mountain and Hot Springs, Al Ain
Jebel Hafeet is one of the highest peaks in the United Arab Emirates. It is located in the southeastern part of the city and plays the role of a rocky border between Oman and Al Ain. In order to get to the top of the mountain, you need to pass through beautiful and yet one of the most dangerous roads in the world. When you reach the viewpoint you will find yourself enjoying the entire scenery of the city beneath you. This mountain is also well known for its historic treasure – the unique hexagonal tombs that were built 5000 years ago. In addition to the mountain, Al Ain is famous for its hot springs. Jebel Hafeet Hot springs are located in the park area of Green Mubazzarah, which is around a 1.5 hour trip from Dubai. It is a perfect place to relax and enjoy the contrast between mountain air and warmth of the water.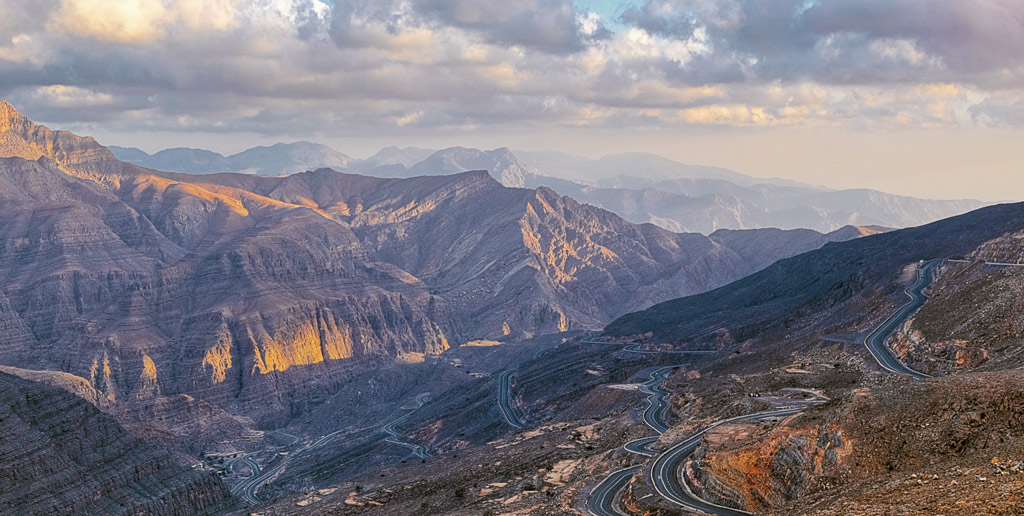 8. Jebel Jais, Ras Al Khaimah
Jebel Jais which is the part of the Al Hajar Mountains is the highest peak in the UAE. It is situated in the eastern part of Ras Al Khaimah. This mountain peak is probably the best way to escape the heat due to the fact that the temperature there is 10°C cooler than on any other landmark around the UAE. Jebel Jais also has a lot of flora and fauna including white daisies, wild irises, purple lilies, goats, wildcats, and many species of birds.
Read a bigger story about Jebel Jais.
9. Sir Bani Yas Island, Adu Dhabi
This unique resort is accessible by the means of a boat or a plane ride from Adu Dhabi. Sir Bani Yas Island has one of the region's largest wildlife reserves, which is home to more than 10,000 animals. Visitors can go on safaris and observe cheetahs, hyenas, gazelles, giraffes, and Arabian Oryxes free-roaming the entire area. This island also has special stables built where you can develop or acquire your skills as an equestrian. Besides being heaven to a nature lover it also has a historic value, a recently discovered Christian monastery, which can be visited during one of the tours.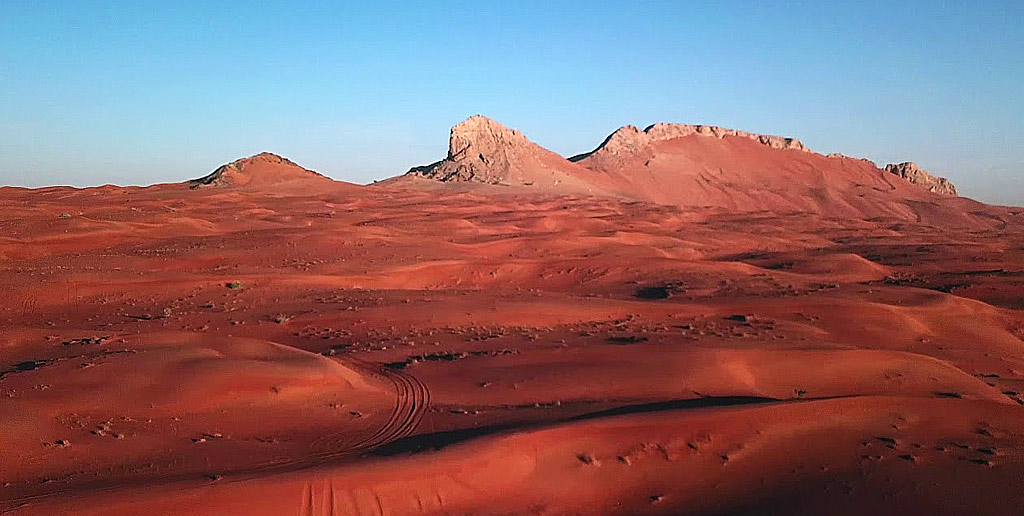 10. Fossil Rock, Mleiha
Fossil Rock is located 25 km away from the Sharjah city near Mleiha. This place is well known for its natural beauty, archeological, and historical value. The fossils in that area are around 80 million years old. Camping there or ordering a guided trek ought to make a feeling of awe out of you. This pristine desert is one of the most mesmerizing places in the UAE.