Dubai Police handed over the keys to two brand new cars to two drivers for not committing any traffic offences for a year.
One winner said she would donate her prize to a charity.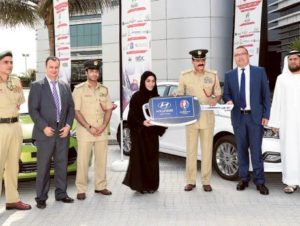 On Sunday, Lt Gen Khamis Mattar Al Mazeina, Dubai Police Chief, handed the car keys to their new owners at Dubai Police headquarters.
Motorists who do not commit any traffic violations for an entire year and collect 24 'white points' have been rewarded every year by the Dubai Police since 2013. This year, a total of 1,800 'safe' motorists were given various gifts, including vouchers, topping last year's figure of 1,500.
Each eligible person can receive a total of 24 white points a year, two for each month. The points will be calculated at the end of each year. A motorist loses his or her entitlement to the month's points on being involved in any kind of traffic violation during that month regardless of whether or not the vehicle was driven by the owner.
A motorist can also lose his or her accumulated white points on being involved in a huge traffic violation in the same year.
Winners are chosen from those who do not have any traffic fines, including Salik and parking fines.