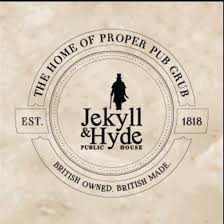 Add to favorites
Anything wrong with the venue information? Notify us!
25.2125693
55.28135380000003
Jekyll & Hyde, Dubai Jekyll & Hyde - Dubai - United Arab Emirates
Jekyll & Hyde Public House ia s friendly pub and proper city gastro serving warm welcomes, cold drinks and home cooked food in the heart of DIFC.
With a focus on robust, freashly prepared and home british flavours, Jekyll & Hyde prides itself on all-day, every-day value with no gimmicks and no nonsense. Their pints, grapes and mixed wont break the bank and they promise to serve then with a smile.
From the full monty breakfast, served daily from 11 AM, to business lunch and express grab and go through the week, to weekend and weekend food and drink specials for all occasion, there`s asways something going down at your local boozer.
A number of weekly deals will be available, including a bottomless ladies' night, a rolling roast for AED 99 on weekends, and a British brunch priced at AED 350.
Their passion is all in the food they see and drinks they serve.